Rolex
Rolex Oysterquartz Datejust Ref. 17013 18k Solid Gold & Stainless Steel Mens Watch....36mm
In 1977, after five years of design, development, and testing, Rolex introduced their first completely in-house quartz movements (the 5035 and 5055) and the Datejust (5035) and Day-Date (5055) Oysterquartz models that would house them.
When they were introduced, the 5035 and 5055 quartz modules were marvels of technology as well as fit and finish. These 11 jewel movements utilized the latest CMOS circuitry, a 32khz oscillator, and analog thermocompensation.  In addition, they were finished to even higher standards than Rolex's mechanical movements. It is no exaggeration to say that even today, no quartz movement produced by any watch company can compare to the 5035/5055 from the standpoint of sheer beauty.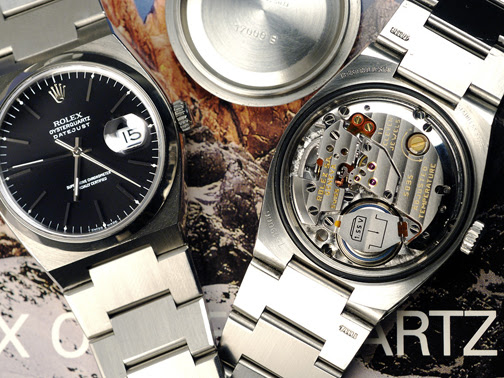 For 25 years Rolex produced the Oysterquartz in Datejust models (17000 stainless steel, 17013 steel/YG, 17014 steel/WG), and Day-Date models in all gold (19018 YG, 19019 WG). Special models of the Oysterquartz were also produced with jeweled dials, bezels, and bracelets.
It has been estimated that in all less than 25,000 Oysterquartz watches were ever produced.
We are watch collectors as well as buyers and sellers of new, pre-owned, antique, and vintage watches
We Are U.S.A. Based Sellers
We only sell genuine, authentic, watches in "Good" to "Pristine" condition
A careful shopper who takes the time to study the photos, reads the entire description, and asks pertinent questions is our best customerly 
Please note that all pictures are taken on the macro setting. This makes even the slightest imperfections, shadows during photography, and specks of dust appear much more prominent even though they are often not visible without magnification.
Specifications:
Brand: Rolex 
Model: Oysterquartz Datejust
Reference #: 825453
Dial Color: White
Case Material: Stainless steel
Condition: Excellent 
Serial #: 6509147
Gender: Men or Women
Case: 36mm, not counting crown ~ 18k solid gold bezel ~ the squared off design of the case plays bigger on the wrist than the 36mm datejust with rounded corners
Crown: Signed 18k solid gold crown sets smoothly & screws down tightly
Bracelet: 18k solid gold & stainless steel, will fit a wrist up to 7.5" ~ no extra links
Dial: Signed clean white roman dial
Movement: Signed quartz (battery operated) movement runs strong & accurate ~ patented instantaneous shutter-like date change near midnight ~ open 6's & 9's on the date wheel ~ has hacking feature
Crystal: New sapphire crystal
Box/Papers: Comes with Rolex box only, no papers
Overall Condition: 1980's era ~ "excellent" condition ~ new sapphire crystal ~ signed clean white roman dial ~ movement runs flawlessly ~ signed 18k crown operates as it should ~ all functions working properly ~ light surface scratches on case & bracelet from nearly 40 years of use can be polished out ~ no damage ~ all of our watches have been tested and serviced if needed ~ "stunning"
Because older vintage wristwatches were made smaller than watches made today, men or women can wear this and would look fabulous on your wrist.
We are members of the NAWCC, The National Association of Watch and Clock Collectors, which establishes the standards for ethical conduct for NAWCC member activities related to horology
Vintage watches are generating more interest over the last several years. They are added to collections and are being worn. These vintage watches are a bargain when you consider the cost of producing a comparable watch with a high grade movement. This is a very nice example of a vintage watch which would make a interesting example for any collection or just be fun to wear as your personal timepiece.
All of our watches have been tested and serviced if needed. We time all watches for at least 48 hours prior to listing and 12 hours prior to shipment. If it doesn't maintain acceptable accuracy We won't ship it and the buyer will receive a refund
It is our hope that all of our items will go to people who will enjoy and appreciate them as a art form. We will gladly accept a return/and or take care of a problem if we make a gross error in the description. If we have made no gross errors, the item is a final sale. This is merely due to the items being antiques, vintage, or pre-owned. Watches are sold as-is, and as described, with no warranty
About Us
Our goal is to provide the finest and most varied selection of vintage, classic, and collectable timepieces our customers can find on the market. We offer a variety of brands and models to satisfy any preference, price, and taste. If you like unique and collectable vintage or antique wristwatches, we specialize in Swiss, American, and Japanese timepieces from the 1930's to 1990's comprised of manual wind, automatic, and quartz (battery operated) watches
As Always....."Buy The Seller".....is a Phrase That Applies To The Watch Industry Almost More Than Any Other
Disclaimer
Vintage Watch Outlet is not an authorized dealer of any of the watch brands we carry. All brand names and trademarks are the property of their respective owners and are used for identification purposes only. This allows us to sell luxury items at discounted prices. Vintage Watch Outlet is not affiliated with any website that sells Fake or Replica items. All of our wristwatches are genuine and authentic
SKU 825453