March 30 2020
The quartz crisis was, fortunately, a relatively brief interlude in the watchmaking industry—the worst of its effects taking place over little more than a decade. However, that was plenty long enough to annihilate around two-thirds of Switzerland's traditional manufacturers, forcing hundreds into bankruptcy.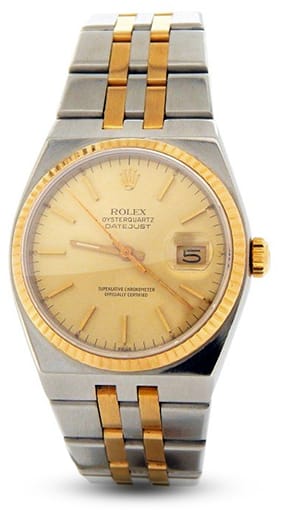 Rolex survived better than most, and arguably thrived, in their customary way; innovation.
In 1977, after five years, two new watches debuted, dubbed the Oysterquartz, loosely based around their conventional dress pieces, the Day-Date and Datejust.
Their quartz models, and the movements especially, remain amongst the most impressively over engineered examples ever made. They are way out in front of anything else they have created in terms of timekeeping accuracy, and their highly individual, archetypically seventies styling is one now very much in vogue.
Both watch series' ran from 1977, with production officially stopped in 2001. During that time only around 25,000 were made; a tiny number compared to the manufacture's mechanical output today, which exceeds 1 million units annually.
That makes these pieces particularly rare and highly collectible, a fascinating slice of Rolex history that still manages to be perfectly affordable.
The Ref. 17013 is perhaps the most popular of the Oysterquartz versions, and below we will take a look at it in a bit more detail.
All the Oysterquartz watches Rolex produced were technically 36mm, the customary size for much of their Classic Collection at the time.
However, the then-space age internal technology seemed to call for a similarly futuristic housing and so they were given striking angular cases with integrated bracelets, reminiscent of the Gérald Genta-penned Royal Oak from Audemars Piguet. The design essentially looks like one continuous metal band and wears far larger than its dimensions on paper would suggest.
Of course, the other reason the Oysterquartz models had such a different look to their mechanical counterparts was because Rolex wanted to make sure no one was going to confuse the two. Interestingly, the brand did a market test of the case style in 1974, powered by a regular Perpetual caliber (the Cal. 1570), releasing both a steel and two-tone version, the ref. 1530 and ref. 1630 respectively. Only around 1,500 were made, and have become much sought after by collectors.
The initial Oysterquartz models were launched in 1977.
Unusually for Rolex though, the quality of the finishing was far higher than the more industrial style their movements typically receive. The rhodium-plated brass bridges were given beautiful chamfered edges and Côtes de Genève striping—a benefit of having a far lower production run and so more time to lavish on them.
What it all amounted to was one of the most advanced quartz movements yet created. The 3,600vph, 11-jewel caliber was among the first thermocompensated examples, able to regulate the frequency of its crystal's vibration to offset changes in ambient temperature.
Its technology was also way ahead of just about anything else being produced, and it was almost unbelievably precise.
Even by modern standards it is massively impressive and the movements were so far ahead of their time they are still serviceable by Rolex technicians today.
It makes the Oysterquartz models easily the most accurate watches Rolex has yet produced, and something almost impossible to beat with a conventional movement.
With the Ref. 17013, the yellow gold elements take up two of the bracelet's center links, as opposed to all three on the traditional version. Each link is also far longer and chunkier than usual as well, which gives a better complement to the overall styling.
In all it is extremely distinctive, a perfect match for a watch that looked like nothing else Rolex ever made.
The Oysterquartz Datejust Ref. 17013 is undoubtedly an oddity in the crown's long story. While it was made, like the rest of the range, out of necessity rather than any desire, it still speaks volumes about the manufacture. The quartz crisis might have forced their hand, but Rolex responded by building one of the most extraordinarily accomplished watches of its type, testament to their dedication and engineering prowess.
Today, the Oysterquartz models, and the yellow gold examples specifically, have become cult favorites among collectors looking for something a little more quirky than the usual suspects of Submariners and Daytonas. Best of all, prices are still realistic, despite the relative shortage of them on the market.