August 05 2019
As time goes on, it seems like its getting harder and harder to buy a Rolex watch.
If you're in the market for a brand new example, a trip to your local Authorized Dealer can often be a dispiriting event, with the brand keeping supply of their most popular models incredibly low.
It is one of the factors that has led to such a massive upsurge in the pre owned market, which always has a far broader choice in stock and often at more competitive prices.
But it is by no means without its drawbacks. There are a huge number of things to take into consideration before you part with any money here too. From finding exactly the style of watch you want, to knowing the trip falls to look out for, to researching exactly where to make your purchase, it can all seem like an insurmountable amount of information to take in.
Below, we have listed some of the most important points to think about before you pull the trigger on your next used Rolex watch.
1. Model
If this is going to be your first acquisition from the brand and you have been doing some exploration of the various different models on offer, you will have seen just how extensive your options are.
Rolex is most well known for their tool watches, those pieces originally designed to serve a definite purpose beyond merely telling the time. So, something like the Submariner and the Sea-Dweller were made for divers, both recreational and professional, each with a formidable waterproofing. The GMT-Master was for long-haul airline pilots, and their passengers, to help fight off jetlag with its dual time function. The Daytona and its trio of sub counters was destined for a life on the motor racing track.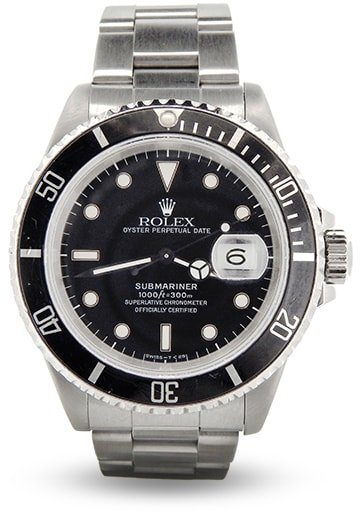 However, that was a long time ago. These days, and I'm going to offer a sweeping generalization here, no one uses any of these watches for their once intended reason. That means, just because the deepest underwater you've ever ventured was in the bath tub, you can wear a Submariner with pride. You can sport a Daytona and still drive like you have your granny in the backseat. The important thing is to get the watch that appeals to you on some level.
On top of that, these watches still have features that come in very handy in day to day life.
A dive watch, as well as being inherently extremely tough, has a rotating bezel which can be used to keep track of time in almost any situation. The same with a chronograph, the name for a mechanical stopwatch like the Daytona. I used mine to make sure I didn't overcook my pasta last night.
Don't worry about the labels attached to the tool watches, no one's looking.
Of course, there are others in the portfolio outside that group. Models such as the Datejust and the Day-Date, although very much built to last, were intended first and foremost as dress watches. Their styling however, which has barely changed over the generations, lends itself to almost any setting. You can wear them with jeans and a t-shirt or with a business suit. In that way, they can be something to consider if you are not thinking of starting a whole collection, and are instead after that one good watch that will last forever and is versatile enough to go anywhere.
2. Budget
Another thing that becomes clear very quickly when you start looking at high end luxury watch collecting is that there is always a more expensive option.
It is not exclusive to Rolex by any means, but it is just a fact. The model you choose will also be available in a more precious metal, or with some kind of gemstone enhancement or there will be a version which is scarcer and so more highly regarded and sought after.
It is possible (incredibly easy in fact) to spend a lot of money on this new hobby. If you actually have a lot of money, then all to the good. If, on the other hand, your disposable income resides with the rest of us in the real world, then I cannot recommend highly enough working out your budget and then being disciplined enough to stick to it.
Letting your emotions get the better of you and overstretching your finances for your dream watch happens to the best of us (ahem!) But in my experience, you will enjoy your new purchase all the more if you haven't also spent this month's mortgage payment on it.
It is not always the simplest thing to do. Luxury watches are, after all, entirely about emotion. However, do at least try!
What Influences the Price?
There are a number of factors which will affect the price of any pre owned model.
We've already touched on one of the biggest ones—rarity. Obviously, the fewer examples of a particular watch there are in circulation, the more valuable they are. And when you are talking about one of the real icons of the vintage scene; Double Red Sea-Dwellers, Paul Newman Daytonas and the like, the sky really is the limit as far as cost is concerned.
Of course, it isn't just the mythical pieces of yesteryear which are going for a huge premium these days. With Rolex's draconian stance on regulating supply to their authorized network, certain brand new models are being snapped up by professional freelance dealers and are then sold on the preowned market for up to double their retail. The latest GMT-Master II, for example, in steel with either a red and blue (Pepsi) or blue and black (Batman) bezel are reaching incredible sums, with no shortage of customers. In fact, most of the steel sports watches are trading well above MSRP.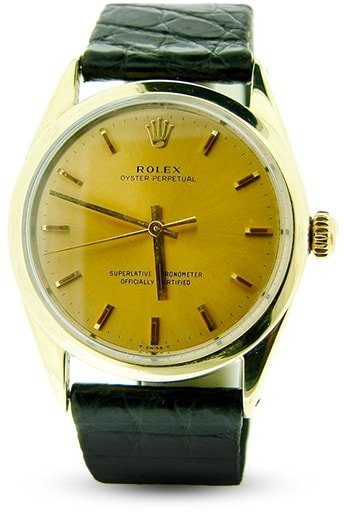 That brings us to another strange anomaly with Rolex prices—metals. Many in the tool watch collection have been given gold and even platinum variants over the years which, you would be forgiven for thinking, would cost considerably more than the steel versions. And that is indeed true if you are buying new. But as we have seen, you just can't buy a new steel sports watch from a Rolex store anymore. So we are at a stage now where something like a preowned Daytona in Rolesor, Rolex's name for their half gold, half steel blend, costs significantly less than an all steel piece. Even in solid 18k gold, it is only marginally more expensive than in stainless steel. The price is very much dictated by the demand rather than the value of the materials involved.
And lastly, another cost-affecting factor which runs contrary to expectations; condition. For the newer pieces, looking box fresh is still very desirable. But for those hardcore collectors of important vintage models, elements such as a cracked 'spider' dial, a faded bezel or a touch of patina can actually add to the allure, giving each example a bit of backstory as well as making each one unique—with prices going north as a result.